Whether it's a firefighting mission in Turkey or a transport mission for the UN World Food Program in Africa, Moldovan pilots have been providing their services under the most adverse conditions around the globe for more than 30 years.
It is a bitterly cold morning as I wait outside the security checkpoint at Chisinau airport for my contact person, a helicopter pilot who now works for the Moldovan airline Moldaeroservice. Moldaeroservice is a state-owned company that was founded on September 12, 1994, after the independence of the country from the assets of the former Aeroflot branch. The history of the airline dates back to 1966, when the company was established in the then Soviet Union for regional agribusiness & transport services, based at Chisinau airport. Initially, the company operated numerous Antonov- 2 biplanes, Kamov 26 spray helicopters and 14 Mi-2 transport helicopters, but with the accompanying perestroika and the disintegration of the Soviet Union, the history of the Moldovan aviation company also ended for the time being. With the re-establishment by the Moldovan Civil Aviation Authority in September 1994, the company resumed parts of its former tasks, although today only a fleet of one AN-2 and four MI-2 helicopters is still in regular service.
And it is precisely this increasingly rare type of helicopter that is the subject of my visit to the site today. After technical maintenance work on an MI-2, I was offered the opportunity to accompany a technical acceptance flight as a passenger. This was a unique opportunity, which I did not want to miss.
After a few minutes I am greeted with a broad smile by Valeriu U. at the airport entrance. As a Moldavian helicopter pilot, Valeriu has flown numerous hours in Africa and Afghanistan for humanitarian missions over the last 25 years due to a lack of tasks in his home country. The 52-year-old is an old hand in the flying business, having trained as a helicopter pilot with the Soviet Army from 1991 till 1995, flying on the MIL-24 helicopter, among others. At the end of his seven-year military career, he returned to his homeland to pilot Mi-2 and Mi-8 helicopters for various airlines as a freelance pilot.
Any task you may have – we can do
Immediately before his assignment for Moldaeroservice, which fortunately brought us together at this point, Valeriu flew missions for Valan International Cargo Charter Ltd. on a MIL-8 transport helicopter in South Sudan. Valan is one of those renowned Moldovan cargo airlines (AN-26, MIL-8) that have flown numerous humanitarian missions since 1998 on behalf of renowned organizations such as the UN (United Nations), WFP (World Food Program), IRK (International Red Cross) or USAID, in Kosovo, Afghanistan, Somalia, Sierra Leone, Ethiopia and Iraq.
In the meantime, Valeriu has accumulated close to 4000 flying hours during his missions around the world, which gives me confidence in the 52-year-old's abilities. After passing the security checkpoints and walking across the apron of Chisinau Airport to the parking position, our aircraft for the day stands in front of us in the form of a 38-year-old MI-2 helicopter with the registration number ER-20739.
The MI-2 is a Soviet-produced helicopter powered by two Klimov GTD-350 engines, each producing 350hp, and appears to be ideally suited for the company's tasks. Until the late eighties, the Polish licensee WSK produced about 5000 units of this universally usable light helicopter. Due to the high numbers of units built between 1966 and 1988, it is still easy today to obtain the spare parts needed to operate the helicopters, which are now more than 30 years old. At first sight, the MI-2 does not make a particularly trustworthy impression on me, as the ravages of time have noticeably affected the helicopter's appearance. However, Valeriu and his on-board technician assure me that my aircraft is in good technical condition.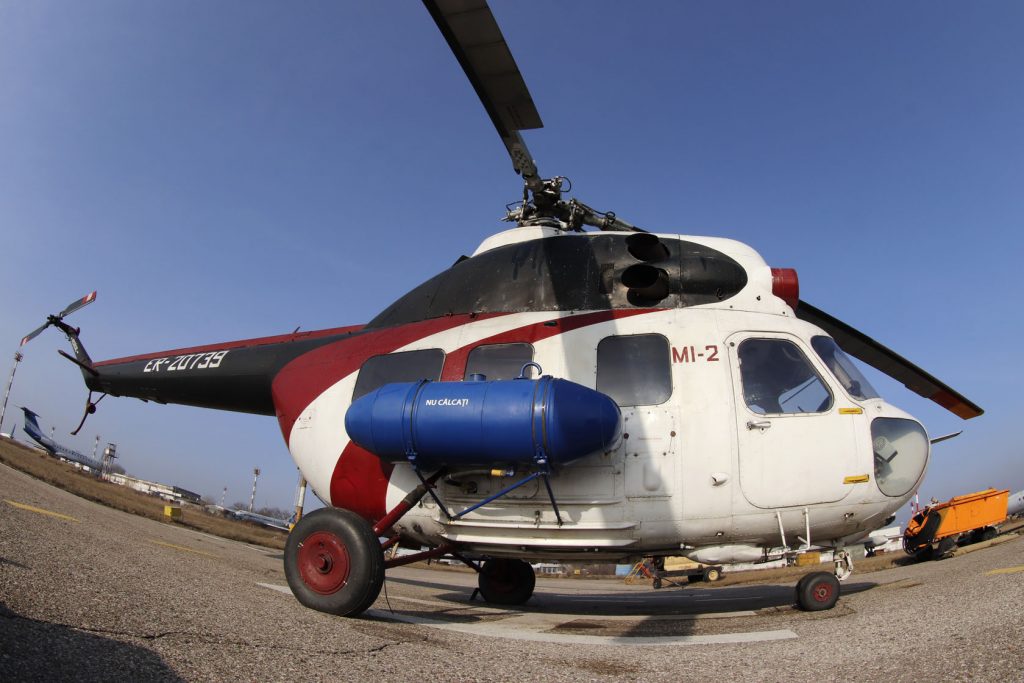 Before the turbines are started, however, I am quickly asked to sign a kind of "declaration of consent". Before I know it, the two Isotow GTD-350P turbines of our MI-2 are at operating temperature and we take off for our test flight. Valeriu skilfully steers the helicopter in a tight right turn over the airfield, past the numerous Tupolev and Antonov aircraft which, unlike my historic MI-2, will never fly again.
At an altitude of only a few meters, we cross agricultural land, gain altitude and fly over the first streets and buildings of Chisinau's suburbs. Much faster than intended, the aircraft turns back towards the airport after the city center of Chisinau becomes visible.
Valeriu quickly shows me with some spectacular flight maneuvers how maneuverable this small all-purpose helicopter of Russian design is, before we gently touched down again on our landing site after just under 15 minutes of flight time. The technical acceptance flight not only put a big smile on my face, but also on the passionate pilot Valeriu, who seems to be visibly satisfied with the result of his test flight.
From job to job
In the meantime, several months have passed since our last meeting and when I reach Valeriu again by phone shortly before Christmas, he tells me about his last mission flights in Turkey. Over the summer months, he was again in action for Valan and flew numerous firefighting missions in the Mediterranean with the tried and tested MI-8 helicopters. He has since returned to his old home country of Moldova, but soon a new lucrative assignment in Afghanistan could make for exciting work, according to Valeriu.
Corona crisis or not, Moldovan pilots will probably still be called upon in the future to take on difficult missions around the globe.
Martin Dichler