Austrian Airlines has operated a technical maintenance facility at Bratislava Airport since 2006. Austrian Technik Bratislava (ATB) specialises in the maintenance of regional aircraft. Initially, only Fokker 70 and Fokker 100 aircraft were maintained, but over the years the range of services has been expanded. ATB could soon prove that the corona pandemic in aviation can produce not only losers but perhaps also winners. While competitors had to cease operations, ATB is now thinking about growth. The MRO company is currently trying to win customers whose shipyards have had to shut down. Nordic Aviation Capital, a leasing company, for example, has currently parked seventeen former Eurowings (Dash 8- Q400) aircraft in Bratislava, all of which require a technical overhaul.
Martin Dichler spoke with the experienced pilot and former Austromir candidate Wolfgang Henle, who has been the company's managing director since 2013.
You have already been working for Austrian Airlines for 25 years, can you give us a brief insight into your professional career?
My career began in 1994 as a Dash – 8 pilot with Tyrolean Airways, where I was also responsible for flight administration, and later became Risk Manager and Head of Controlling at Austrian. At the Austrian subsidiary Slovak Airlines I was Chief Operating Officer from 2004 to 2007 and since 2013 I am Managing Director at ATB here in Bratislava.
Are you still actively flying with Austrian?
I would have 14,000 flying hours to show for it (laughs), I have flown most of them on the Tyrolean/Austrian Dash 8 and a year ago I switched to the Airbus 320. It's unusual that someone in my position in the Group is still actively flying. Due to the slow ramp-up after the crisis, the demand for A320 pilots at Austrian is currently limited. But I hope that I will still be able to fly this year.
What work does Austrian Technik Bratislava (ATB) offer?
ATB is one of these new maintenance yards that is completely dedicated to heavy maintenance and does not compromise on line maintenance. We are specialists for heavy maintenance, better known as C and D Checks. These are maintenance events that occur every two years and involve 5000 to 10,000 man hours in the aircraft. Not only are repairs carried out, but the aircraft are disassembled and thoroughly checked, sometimes even rivets are replaced, and after that the aircraft is actually as new. These kinds of checks are the guarantee that an aircraft can be flown for so long. This is one of the reasons why flying is so expensive, but at the same time so safe!
It all started with the Fokker maintenance, which aircraft models have been added since then?
Our central model today is the Embraer Jet, for which we service many customers worldwide. The Dash 8 is a new addition and of course the Fokker Jets are still important for us because we have an Australian CASA license in addition to our European EASA license, which also makes us an official Australian maintenance facility. Every maintenance company is struggling to fill its hangars with aircraft in the summer. Here we benefit from the fact that the Australian airlines want to maintain their aircraft in winter – the European summer – which is why the aircraft are transferred to Bratislava with up to five stopovers. The cost factor for maintenance is simply significant here, you have to know that Australian labour costs are around 30% higher than in Western Europe.
For the Fokker Jets, there are no other providers between Australia and Europe who do this work?
Basically not, because Australian shipyards are too expensive, Fokker Singapore is much too small to meet the demand and for the Chinese and Philippine low-cost suppliers the Fokker market is simply too insignificant to build a whole maintenance line.
How many Fokker 70/100 aircraft are still in service worldwide today?
I can only estimate how many Fokker are still in service with about 80 units, in Australia at least 60 units are still flying, which is a considerable number.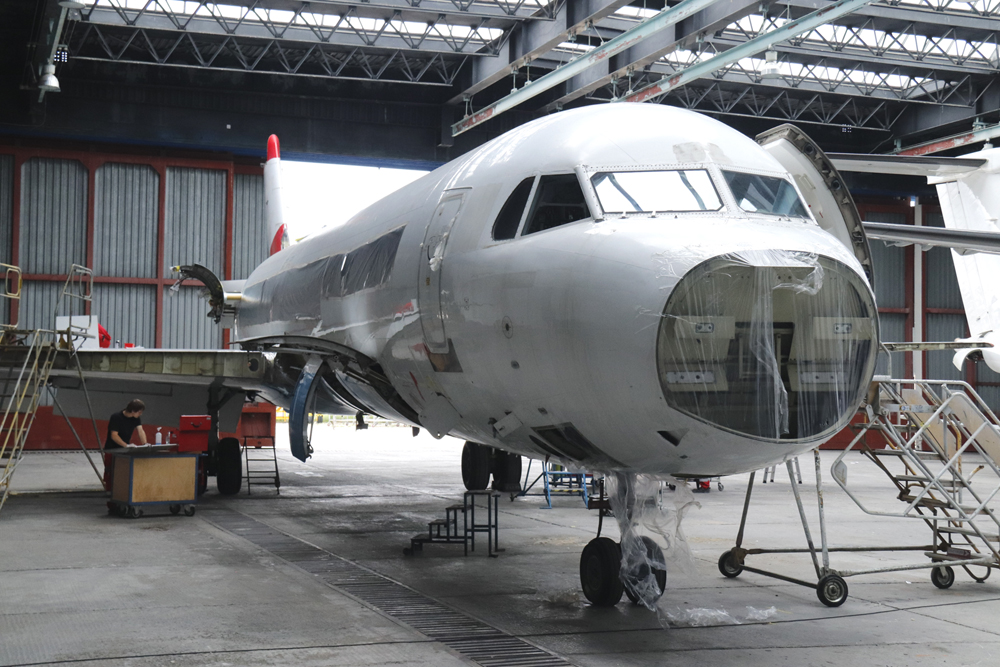 Could you imagine adding another product to your portfolio?
Yes, of course, we are considering including the A 220, because it would fit in well with our regional range, i.e. under the A320.
Is it difficult to acquire suitable personnel here in Slovakia?
Actually not, because the Slovak school system provides many well-trained engineers. We do not accept anyone who is not at least an engineer or a graduate engineer. In contrast to Austria, there are numerous aviation universities in Slovakia, which produce very good people.
What effects did the Corona crisis have on the company and its employees?
The work has continued as before. We tried to get as many orders in as possible, but we had to accommodate our customers and delay payments. As far as the employees are concerned, we agreed with the worker union on a 20 to 45 percent salary reduction over the summer. When we produce enough again, we will hopefully be able to repay this deferral. This is certainly a difficult time for our colleagues at the moment. But for me it was clear from the beginning that there would be no layoffs at ATB if an agreement was reached with the union. Therefore, no one has been dismissed and we have even continued to extend employees with limited contracts. If you demand so much from your people and pull it off together, then dismissals simply won't work.
Aircraft storage is a new business model of ATB?
No, long-term aircraft storage would not be a business model for us. Aircraft storage alone is a cost-intensive business where only certified line maintenance personnel would be used, this would be ineffective. Our aircraft here all need a check, so the storage is only a kind of temporary storage.
How many former Eurowings aircraft are currently mothballed at Bratislava Airport?
At the moment 17 aircraft (Dash 8 Q400) are parked. However, there are plans to park more aircraft (Dash 8, Embraer and Airbuses) from other airlines here, in total there could be up to 110 aircraft. If it actually comes to that, the airport will close one runway for us in the long run to enable us to store the aircraft.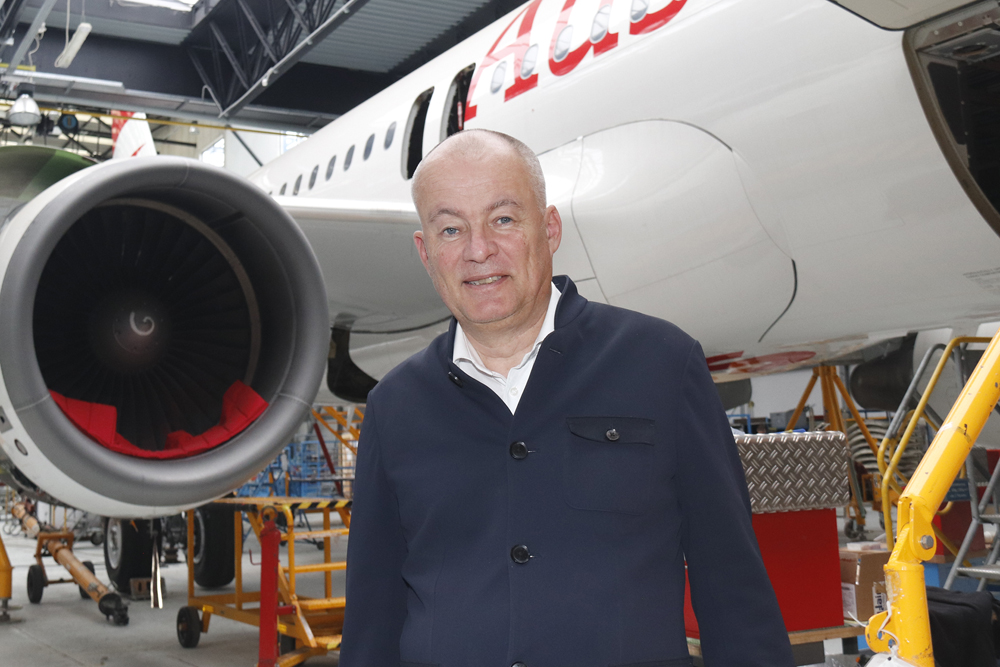 Bratislava Airport has already promised its support here?
The airport has promised us the possibility for a period of at least two years, because with such a high number of aircraft it takes a while until all the checks are done.
How good was the cooperation with Bratislava Airport and the authorities during the Corona crisis?
Slovakia was very strict with its corona measures, but Bratislava Airport was kept open for us to ensure that the planes could make their approaches. The return travel options for the foreign pilots were also guaranteed.
And how do you see the future of ATB?
We will keep up and if the predictions are half right, there is even a chance of growth for our company, as many competitors have not kept up. There is a great chance that ATB will emerge from the crisis much stronger than before.
The aviation association Airliners.sk has received a Fokker 100 (OE-LVJ) as a gift from Alliance Air and plans to keep the aircraft for a museum. What do you think about the project?
Do you know how it feels for a pilot when an aircraft is scrapped? So I think it is a good project and I hope they will collect the money for the transport together. Our staff will prepare the aircraft for transport that should have been scrapped by us originally. The costs for this work will be covered by Alliance Air, because scrapping an aircraft would also be an expensive and complicated matter. 
https://www.austrianaviation.net/detail/atb-chance-auf-wachstum-in-der-nach-corona-zeit/