Bratislava Airport has everything a modern airport needs. Unrestricted 24-hour flight operations, a modern terminal that was only opened in 2012, a two-runway system, numerous maintenance companies and sufficient space for future expansion. After the bankruptcy of the former home carrier Skyeurope Airlines in 2009 and the resulting passenger losses in the following years, the airport, named after the famous Slovak national hero M.R.Stefanik, worked its way back to its former size. This development came to an abrupt end with the outbreak of the Covid-19 pandemic, when the Slovak government banned all commercial flights on March 13th, bringing air traffic in the country to a standstill!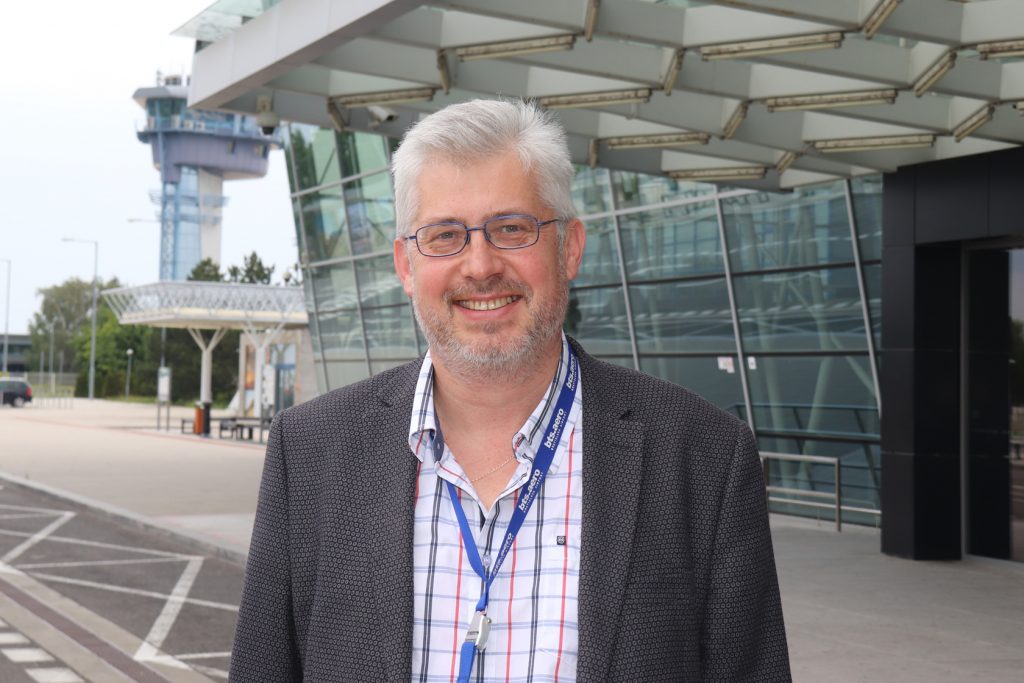 Martin Dichler spoke with Radek Zabransky (Director Aviation & Strategy Development) about the current developments at the capital's airport.
Let's take a look at the pre-Corona period, how satisfied were you recently with the development of the airport?
The development of airport traffic during past recent years was very promising. Both 2018 and 2019 became the most successful years in airports´ history, when we significantly exceeded the 2 million threshold of served passengers. We have reached historical records in traffic volumes and also set several historical records:
– absolutely highest historical passenger numbers for several months in a row,
– historically highest number of passengers served at the airport in a single month – almost 350,000 passengers in July,
– 2018 was historically strongest summer holiday season when we served more than a million holidaymakers from June to September
We were about to start several new routes in 2020 and expected to at least reach the same passenger figures in 2018 and 2019. By the way, both January and February numbers were higher then those for same months of previous years.
You are responsible for the strategic development of the Airport, what is your vision for the future of your company?
At this moment, it is extremely difficult to talk about strategic developments, first we have to see how fast the industry, tourism sector as well as the economy as a whole would be recovering from this crisis. So currently we are focusing on reinstating those routes which were originally planned for the near future. Our main focus is indeed implementation of precautionary measures and requirements set by country health authorities to ensure that during post-covid operations the airport will be a safe place for our passengers.
Slovakia has taken a very drastic step by banning all flights into the country on 13 March to limit the spread of the Covid-19 pandemic, what impact did the decision have on the airport and its staff?
The ban on civil flights has a significant impact on our airport. The only civil flights which were allowed to operate after the ban has been imposed were Of course, forced closure of the airport, although understandable as a measure which helped Slovakia to fight the covid pandemia, meant significant revenues losses from landing fees, fees for departing passengers, aircraft ground handling and other revenues from non-aviation activities (eg income from car parking). As far as employees, the aim of the company was to keep its trained and highly professional staff, so we have implemented solutions depending on the nature of their activities, so for example administration colleagues were assigned home office.
Has the airlines already expressed its interest in resuming its Bratislava flights?
Yes, but it will indeed depend on when and how the ban on commercial flights will be lifted and to which countries the flights will be permitted. In general, we expect first flights to operate as of mid of June and based on open sales more flights will come from July.
Now there is still a lot of uncertainty among consumers, do you expect a relevant demand on the market?
This is a very hard question. The aviation and tourism sectors were affected first and most heavily by this pandemia, but other sectors of economy soon followed. This will definitely have an impact on demand for travel as the wages and income of many people dropped. But we will most probably see within next few weeks what is the real situation and should we expect. I assume that especially leisure travel market will be significantly hit this year, but additionaly to the lower demand it is also not clear whether it will be possible to travel to popular summer destinaitons outside Europe. In any case, airlines and travel agencies have much better access to booking data and could provide better outlook.
In a press release you announced the postponement of a necessary runway renovation, an effect of the Corona crisis?
That´s correct. The reconstruction was postponed and the reason is very simple: we had to keep the airport operational during the crisis period in order to ensure that all neccessary cargo flights transporting medical supplies to Slovakia as well as repatriation flights could be operated without restrictions.
During the last few weeks, some airlines have transferred their aircraft to Bratislava in order to save on parking costs. Did you actively apply for this business or did the airlines approach you on their own?
This is not 100% correct information. Those aircrafts were transferred to BTS primarily for maintenance by Austrian Technik Bratislava at BTS and there might be more coming in the near future. Of course, it is indeed a revenue source for us. On the other hand, we should keep in mind that parking of an aircraft has its specifics, for example parked aircrafts need continuous maintenance based on requirements and programs set by the manufacturer, so it is not that simple to move an aircraft for parking to an airport where the airline has no possibility of proper maintaining of such aircraft.
Smartwings, Ryanair, Wizzair and Cyprus Airways had announced numerous new connections from Bratislava for the summer of 2020. Do we know which of the announced flights will really be launched?
Except for Cyprus Airways we expect that all other airlines will resume its operations, starting mid of June and especially from July. Of course, we must expect and it was already signalled by the airlines, that number of flights and frequencies will be reduced during the initial period of operations. First flights will be operated to those countries where the health situation is better or similar as in Slovakia. We hope that most of the planned destinations for this summer will be added gradually but again, it all depends on the decision by the respective authorities to which countries we will be allowed to travel without restrictions.
Are you still optimistic that there will be something similar to a charter programme at the Bratislava airport for the summer?
Charter flights starting from July are still planned from Bratislava. To which countries they will operate depends primarily on decision by health authorities and which countries will open boarder for Slovaks. Our main responsibility is to make sure that passengers feel safe at the airport. We will follow the orders and requirements by hygienists and health authorities and we are already implementing measures recommended by EASA and other international organisations involved in this. In any case we do believe that passengers will soon be able to use flights from Bratislava.
The industry is talking about a longer crisis, how long do you think it will take for the airport to recover?
Well, as we are an integral part of the aviation industry, we can only recover hand in hand with recovery of entire industry. It is indeed very difficult to predict, how long the recovery will take, but we must be prepared that it will take even 3 – 4 years, as estimated by industry bodies such as ACI or IATA as well as what is expected by our airline partners.