While Chinese investments in infrastructure facilities in Europe are still a spectre for many, cooperation with new investors from Hong Kong is working very well at the airport in the Albanian capital Tirana. In October 2016, the government awarded an airport concession for a period of ten years to the investment company China Everbright Limited. Away from the public interest, the airport has already developed disproportionately strongly in recent years. The company, which is managed by the German Executive Board duo Dr. Constantin von Alvensleben (CEO) and Volker Wendefeuer (COO), is becoming increasingly important in the Balkans.
In Tirana, Austrian Aviation Net spoke to Airport CEO Dr. Constantin von Alvensleben about the current developments at his company.
Austrian Aviation Net:
I would like to start with a current topic. Albania was hit by an earthquake in November, what impact did the disaster have on Tirana airport?
Constantin von Alvensleben:
We had a moment of shock, the earthquake was in the middle of the night at 03:30am and at this time there were only about 30 people working in the terminal, which was immediately evacuated. But the situation had calmed down very quickly, there was no damage at the airport and already after 30 minutes we could handle the Air Serbia flight to Belgrade again as planned, whereby I would like to mention here especially the good cooperation with the authorities.
Already in the first night, only 12 hours after the earthquake, the first relief flights with equipment and crews from Greece, Italy, Serbia, France and Turkey landed. Within the first seven days, we handled between seven and ten relief flights a day, with all costs for handling the aircraft being borne by Tirana Airport. In addition, a choir of volunteers was quickly formed among the airport staff under the leadership of our experienced press spokeswoman Arlinda Çausholli, who distributed aid worth the equivalent of € 23,000 to the needy directly on site. Within 24 hours, the airport operator CEL also donated € 1 million to the earthquake relief account! We wanted to act quickly and have communicated this.
Do you expect negative effects from unsettled tourists?
I cannot rule out a negative effect at the moment, but we cannot measure it yet. As far as I know, the earthquake will soon fade into the background again. Actually, I don't know anyone who would have cancelled their trip to Albania because of the earthquake. People were naturally dismayed and we received many requests and support from abroad. But we could calm the people down, because there was damage on the coast but not at the airport.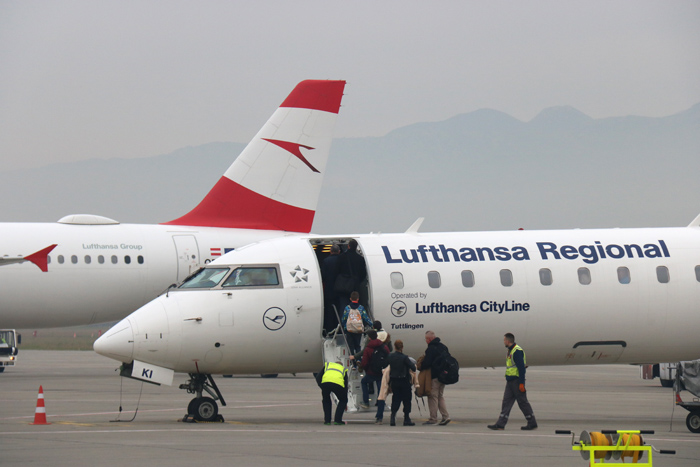 You assumed the position of Chief Executive Officer last September, but were already active in this position between 2006 and 2007. How has Tirana Airport developed since then?
Capacities have remained the same except for a few minor adjustments, but traffic has increased significantly. The staff has also increased but the important positions at the airport are still held by the experienced people from back then, such as our press spokeswoman, human resurce manager, airline marketing manager and Chief Finance Officer.
Did the airport develop as you had hoped?
It has even developed better than expected! At the time when we opened the new terminal in March 2007, we had a traffic forecast that we have since greatly exceeded. In the last three to four years in particular, traffic here in the Western Balkans has risen particularly sharply.
What was the driving force behind this success?
I see a number of reasons for this: The income of the Albanians has risen and the locals are generally very happy to spend their money on travel, in addition the country has been discovered by individual Western European tourists. Many Europeans would like to have a change from the mass tourism destinations like Mallorca and discover something new and interesting. Albania has a lot to offer with its variety of landscapes and its history. The economy and foreign investments in the country have increased considerably, which has also led to an increase in business at the airport. And there are expectations that Albania will be accepted into the EU and in my opinion this expectation alone leads to more traffic.
The airport is under construction, is there a need to expand the existing infrastructure?
Over the next two years, we are investing a double-digit million euro amount in the expansion of our airfield. We are currently working on a new taxiway, next year the runway will be renovated and additional parking positions will also be built to handle the increasing traffic. We have already reached the limits of our capacity at some peaks in the terminal, which is why we are now starting concrete planning for a further terminal expansion, the construction of which could begin in the next two to three years.
Can you give us a brief overview of the current development of traffic figures?
The development is very positive and we are very satisfied. So far we have recorded almost 13% more passengers than in the previous year. We are not sure whether we will be able to maintain this high figure in the coming year, but we are optimistic that we will again see growth of +10% in 2020.
Wizz Air has just opened a new connection to Vienna, Easyjet, Pegasus and Norwegian are also flying to Tirana. Are you experiencing something like a low cost boom?
There is a very strong demand from low cost or budget airlines. But we are not a low cost airport, but of course we enjoy the strong demand. There is no differentiation in the fees for these airlines, we support the airlines with our market data or marketing if required and give incentives when opening new routes.
What is the significance of Vienna as a destination?
Vienna is very important, I would even go so far as to say that for the Central and Western European traffic, the Vienna hub cannot be beaten. With Austrian Airlines very good off-peak flight times, I believe that the hub is even more important for business travellers than Frankfurt. We are very happy that we have a connection to the two LH hubs in Vienna and Frankfurt, but we wouldn't mind getting Munich on top of that.
Albawings and Air Albania are two airlines based at the TIA. How do home carriers contribute to the positive development of the airport?
An increasing share, both airlines currently serve only 13% of the total volume, but I can well imagine that this figure will continue to rise. Albawings currently has three Boeing 737s in service and Air Albania, as a Turkish Airlines subsidiary, has a Boeing 737-800 based in Tirana. Air Albania is developing strongly and will soon be expanding its business here strongly with two additional aircraft.
What role does ethnic traffic play?
Ethnic traffic is significant and plays an important role, accounting for more than fifty percent of the total volume. It is precisely here, of course, that our routes to Italy are in particularly high demand. The traffic at TIA airport is divided between the hubs (25 to 30%) and the point-to-point traffic (65 to 70%).
Are there routes that you would still like to include in your portfolio?
Due to Albania's history, a high proportion of our traffic traditionally goes to Western Europe and North America. Eastwards we are well connected with Istanbul and Athens but still somewhat underrepresented. An additional connection to one of the two hubs on the Gulf would also make me very happy!
Let us talk briefly about the tourist development of Albania. The number of visitors is constantly increasing and seems to be just as if tourists are rediscovering the country. What is Albania's potential and how do you see the future of tourism?
Even though tourism from Europe and the USA has increased pleasingly in recent years, I believe that there is still great potential for growth here. Basically, Albania is still a largely unknown tourist destination that still needs to be discovered. The growth trend will therefore continue and my hope is that Albania will be accepted into the EU and that this will lead to a further increase in the number of visitors.
What other advantages would EU membership bring?
I believe that business – as well as tourist traffic would continue to grow. However, Tirana Airport is already at European level in terms of its infrastructure and its safety and security standards. We are currently working on meeting all EU standards and EASA requirements by the end of 2020.
In October 2016 Tirana Airport was sold to the Hong Kong-based investment group (CEL), how is the cooperation going?
The cooperation is good and long-term. We have a Concession Agreement with the Albanian government until 2027 and it is not excluded that there will be further talks about an extension afterwards. The Chinese investors have certainly recognised the future potential of the airport. However, there is also a historical link between China and Albania, which is why many more Chinese investments have been made in the region.
Martin Dichler
Dieser Artikel wurde in deutscher Sprache auf Austrian Aviation Net veröffentlicht:
https://www.austrianaviation.net/detail/flughafen-tirana-investoren-haben-das-potential-erkannt/