Looking back on recent years, Ukraine International Airlines (UIA), the country's largest airline, faced almost insurmountable problems. The Crimean crisis and the associated sanctions, the increasing competition from the aggressive low-cost airlines on the domestic market and not least the Boeing 737 MAX Grounding, of which the airline should have taken over three in 2019, made it almost impossible for the airline to operate successfully.
The fact that Ukraine International Airlines still exists on the market despite numerous crises is due to one person. Yuri Miroshnikov was with the company for more than 25 years, including 15 years in his role as CEO, forming UIA into a global airline. On September 12th, he ended his membership of the airline's Executive Board (*) and joined the Supervisory Board.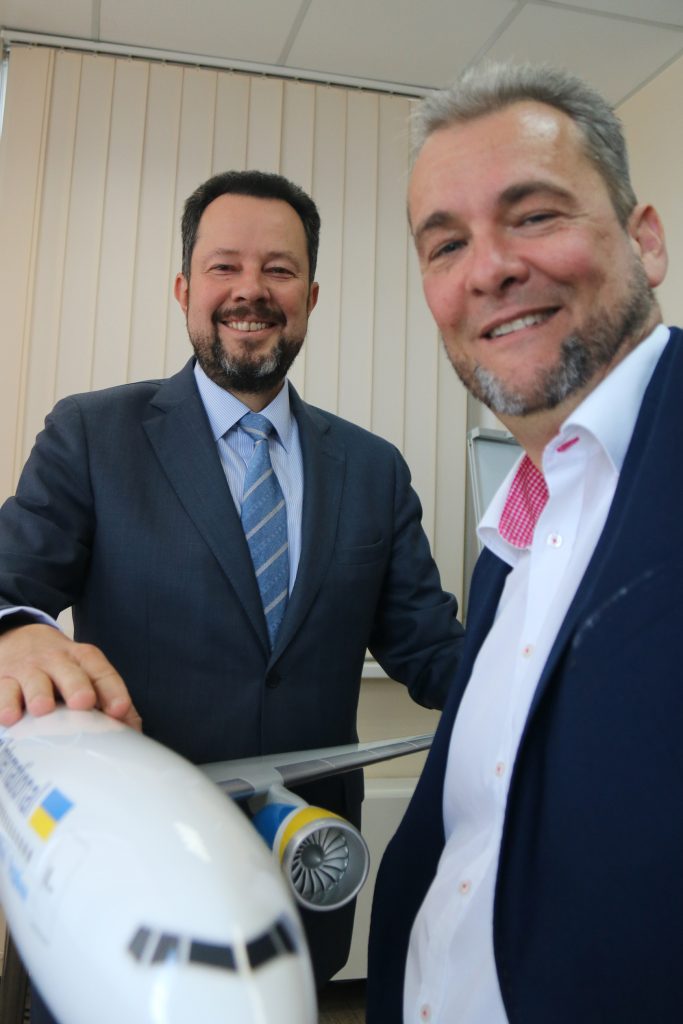 Let me start with a personal question, you have worked with Austrians for years now. What memories do you associate with Austria?
I have very good, very emotional, and above all very warm memories of the people and the country. Austrian Airlines was not just a good partner for years, but also a role model from which we could learn a lot. I love Vienna. During many trips, I also got to know the rest of the country.
You have been CEO of UIA since 2004. How do you think business has changed in recent years?
It has become difficult! The market has changed so much that the once exclusive product of flying is now reduced to the sole needs of the traveler. This might be less romantic than it used to be, but it is more practical for the customer. That's the trend and the reality airlines must live with today.
UIA is not a low-cost company but offers many equivalent services. Where do you see your strengths in fighting low-cost?
In our case, it's probably our network. We cannot compete on the cost side with the low-cost airlines in point-to-point traffic but fill our aircraft with transfer passengers (6th freedom) to attractive destinations. Of course, the pressure of low-cost airlines in Ukraine continues to increase but we will face future challenges.
Approximately half (49.3%) of your customers are transit passengers. Have your five long-haul routes stimulated interest here and how satisfied are you with those routes?
We are very satisfied. However, our long-haul network from Kyiv is still small: we offer New York and Toronto in the west and Beijing, Bangkok, and Delhi in the east. It is important that we can provide Ukrainians with the opportunity of non-stop transcontinental flights and we are glad that this offer is accepted not only by Ukrainians but transit passengers as well. We are considering extending the long-haul routes and frequencies at the next stage of our wide-body fleet's expansion.
What about the development of your long-haul fleet? In addition to younger Boeing 777s, you also operate three Boeing 767s which are more than 27 years old. Are there plans to strip them off?
The Boeing 767-300ER will be removed from our fleet soon! We are looking for a suitable replacement, on the one hand, this could be a 777-family aircraft, but also as soon as the problems are resolved, a future heavyweight version of the Boeing 737MAX for the routes with a long-range and lower demand.
What significance does domestic transport have for UIA?
An important one! I would say that UIA domestic flights are not just the bread and butter, but the bread itself! About two-thirds of all domestic passengers fly through our hub in our international route network. Currently, we head for all airports in Ukraine which can handle our aircraft. The government is investing in infrastructure development to further improve its regional offerings. In contrast to the European train traffic, however, the ticket prices for the railway in Ukraine are very favorable, which is why many price-sensitive Ukrainians will probably continue to use the cheaper train offers for their domestic travel.
How do the Russian sanctions affect the daily UIA flight operations?
Of course, we suffer from the fact that we cannot use Russian airspace. The same applies to Russian airlines. The formerly strong point-to-point traffic between the two countries is served today by other airlines through their hubs in Belarus, Poland, Latvia, and Moldova.
Over the past four years, UIA has massively expanded its product range. How has this year developed so far?
Today, UIA development is tapered off with three factors. The first one is air navigation fees that until recently have been substantially higher than Europe's average. The second one is aviation fuel excise duty (editorial comment: in Ukraine, the duty amounts to 32 USD per ton). The last but not the least is the need to fly around the occupied Crimea and Donbas, as well as the territory of the Russian Federation. Therefore, our eastbound flights are longer and fuel-inefficient. Since 2014, UIA overpaid approximately 216 million USD with crucially affected the airline's performance. Within the given scenario it is almost impossible to expand further. Still, we are optimistic about the UIA future since the newly elected president and government seem to realize the problems and be willing to resolve them. 2019 is the year of consolidation.
The Boeing 737 MAX Grounding was a heavy blow for UIA, are there already initial estimates of how high the additional costs for your company are after you could not take over three Boeing 737 MAX as planned?
It will probably be a double-digit (USD) million amount, which we additionally must carry through the MAX Grounding this year. We had to adjust the flight plan, cancel flights or utilize smaller rented aircraft, and therefore missed the income that was planned. The MAX theme has had a very complex and negative effect on our operations this year, resulting in the shift from a planned stabilization of the operations to an unplanned reduction of our network and product offer.
Have you already made claims for damages against Boeing?
The aircraft we should have taken over are all leased. It is rather a legal question of what we can demand. Another question that may be addressed to Boeing Corp is how they are willing to support their long-time customers like UIA. Anyway, we do hope we will come to a reasonable solution.
The MAX disaster does not end, when do you expect a takeover?
We do not plan to take over the Boeing 737 MAX in the coming year. If it happens unexpectedly, then it will be a positive enrichment for our operations. Currently, we need to plan next year firmly, and MAXs are not included in that plan due to continuing uncertainty.
* This interview was taken on September 5, 2019, a week before managerial changes at Ukraine's largest carrier. Due to the employment contract expiration, Yuri Miroshnikov, who had been working in UIA since 1993 and managing the airline for the last 15 years, left the position of UIA President on September 15, and was elected a UIA Supervisory Board Member.